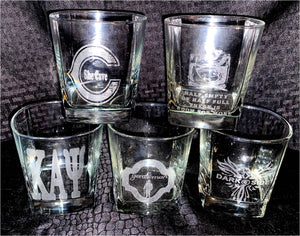 A good whiskey neat, properly prepared caiperinhia, gin and tonic or just a rum and coke, all of them need to be enjoyed in custom engraved double old fashioned glasses. 
This glass is perfect as a groomsman or birthday gift for anyone's bar on its own or to accompany any of our other drinking products.  Glasses are sold as a set of two.
Please email trevor@eightmen.com to order any custom monogram, phrase, logo or anything on any of our products.