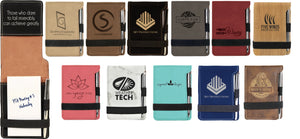 Custom Engraved leather journal is the perfect size to easily fit in a purse or small backpack.  In this world that is overly digital a good handy pen and paper is a great escape from so much screen time.  If you have a meeting facility, country club, golf course, coffee house or anywhere people meet to make key decisions, you want to keep these branded journals on stock.
3 1/4" x 4 3/4".
Includes note pad with 50 lined pages, size 2 5/16"(L) x 4 1/8"(H).

Pad can hold paper up to size 2 3/4"(L) x 4 1/8"(H).

Pocket on inside flap measures 2 1/2"(L) x 2 1/4"(H).

Includes pen with black ink.
All colors engrave black unless specially noted in the options.
Email us at trevor@eightmen.com to get any image, phrase, logo, image or anything custom engraved on any of our products.