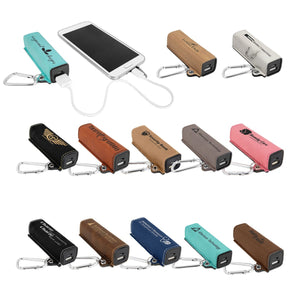 Probably the most important gift to have these days.  Absolutely no reason to not have your device charge up in style.  Great at college fairs, larger expos or any event with lots of young adults as attendees.
Power Bank comes with a small, silver carabiner. 
Input: DC 5V Output: DC 5V Watt Hours: 7.92
USB cord is 12 1/2" long.
Included USB cable is for charging power bank. To charge your device from the
power bank use your device's charging cord.
Email us at trevor@eightmen.com to get any image, phrase, logo, image or anything custom engraved on any of our products.