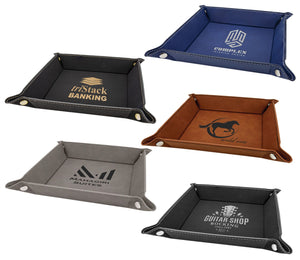 The uses for this stunning leather tray are as many as your imagination comes up with and we invite your imagination to run wild.  A must-have for anyone who loves to entertain, they make a unique tray to serve any food or drink and deliver a special message.   Anything can be engraved on these.  
They store flat until they are buttoned up on the sides.  Perfect fun idea for any lifestyle.
Email us at trevor@eightmen.com to get any image, phrase, logo, image or anything custom engraved on any of our products.